The Making of 'Putrid Deathquake — Overwhelming Doom' | Gothic Hybrid
March 15, 2023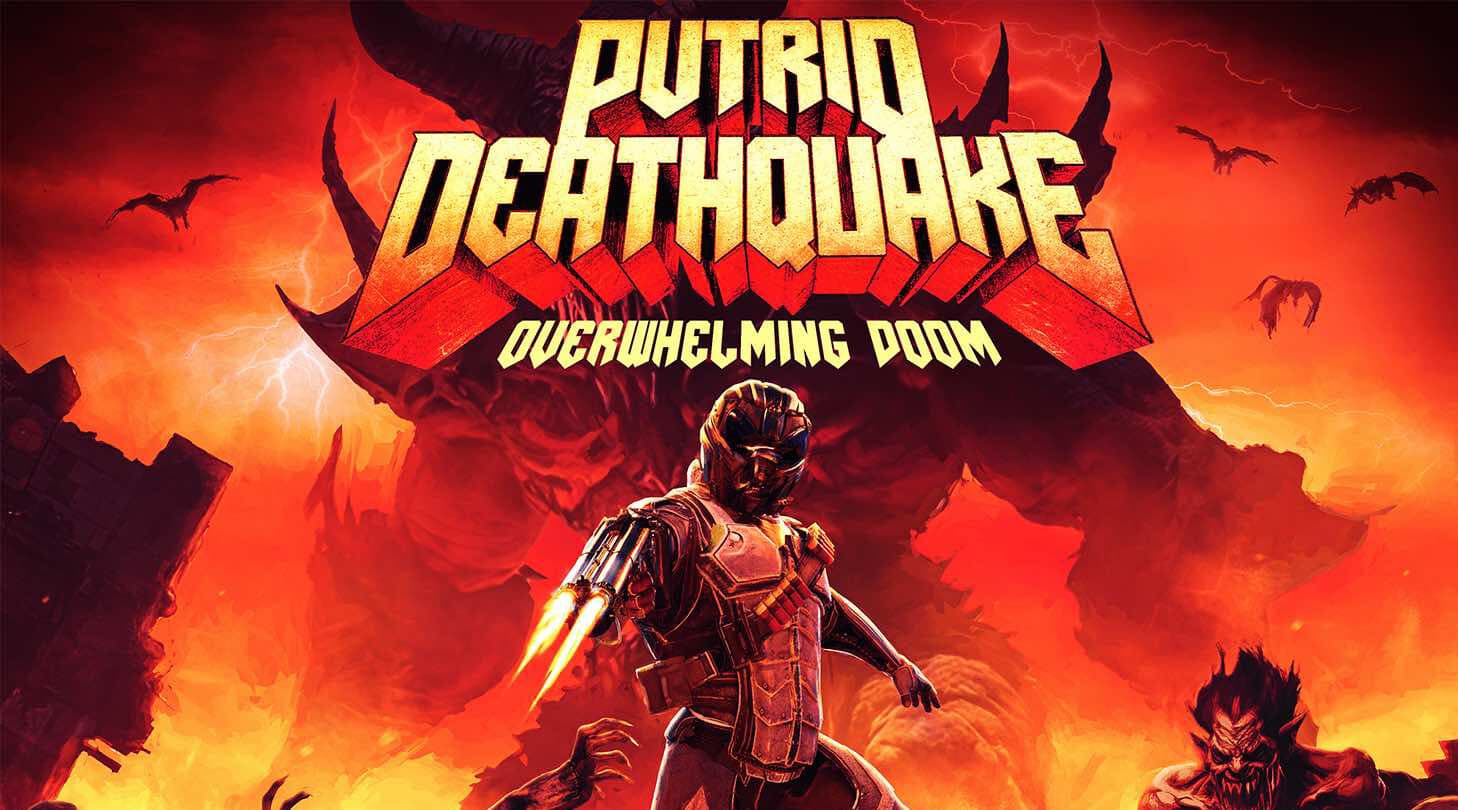 Gothic Hybrid's upcoming release 'Putrid Deathquake — Overwhelming Doom' is a frantic, hellish mix of over-the-top guitar riffs, distorted synths, lethal drums and powerful trailer elements. A fitting soundtrack for the world's end!

Join the creators of the album - Aram Zero, Sigurd Joehnk-Jensen, Brooke Mitchell & Sami J. Laine - talk through the skills required to make this devilish masterpiece.

This album evokes massive aggression mainly through rock & metal influences, is this a genre you're familiar with or have written before? If so, what are the key elements when making this kind of music?

AZ: Well yeah, absolutely. I've created my artistic brand called "Aram Zero", which runs around metal-orchestral-sound design in general and in-game-music sometimes. The key elements? Be able to make a huge guitar sound, where the guitar itself is only one instrument in a very complex sound layer.

SJJ: For me staying simple, yet memorable is the key to this genre. Instead of showing off, and shredding away, building a solid groove, and catchy simple riffs is the way to go for me.

BM: I grew up listening to, and still listen to a lot of rock and metal artists so I feel like I'm very familiar with the genre. I also played the guitar in a couple of rock bands when I was younger. The key elements for making this kind of music are wide, powerful guitars and a driving energy coursing throughout the track.

SJL: I've done some before and the key element is that you have at least an 8 string guitar tuned lower than the bass!

Outside of trailer music, did any rock/metal bands influence your composition?

AZ: Surely Mick Gordon has written a new era of "cinematic" metal music, but I also get inspiration by various bands and other game-related composers. Castlevania's OST, DMC, Rammstein, Korn. And in a way, electronic music (drum & bass, dupstep) also helps a lot.

SJJ: Yes many! Bands like Meshuggah, Periphery, Devin Townsend influenced the composition very much.

BM: Mick Gordon and Bring Me The Horizon were influences for this composition.

SJL: Yes, Very much! Bands like ERRA, Bury Tomorrow, Architects, Falling in Reverse and of course Mick Gordon.

This album very much lends itself to high-intensity video game advertising. Did a previous video game franchise influence you at all?

AZ: The very first trailer of Doom Eternal. I immediately heard Mick's guitar building up with scary synths and his particular kick. I was headbanging for the whole trailer.
From then on, the sound of a "doom trailer" was a must have, I always listen to a few of Mick Gordon's tracks to hype me up.

SJJ: We can't go into this genre, and video games without naming Mick Gordon and his music for DOOM. But also one to mention would be Andrew Hulshult, who did some for Doom Eternal. And pretty much every new FPS game.

BM: The Doom franchise, of course.

SJL: The only franchise I know of that uses this kind of music is doom, but I'd LOVE for more games to go into the metal niche for music.


How did you inject a sense of originality into your composition? Was it difficult to make sure you veered away from previously well trodden paths in this genre?

AZ: By trying to have a guitar sound as similar as possible to him (Mick Gordon). I know it's not a very original strategy, but it is also so difficult to achieve. Then overall the melodies, the instrument choice, my imagination always helps me a lot to be original.
It is difficult (to be original) in the sense you never know if it'll be "a swing and a miss" and that alone might represent a break, but it's also very easy because you want to be unique: it's just a matter of choice and then a (perhaps bad) reaction from the listener. In my personal experience, the benefits of achieving something unique, despite the swing and a miss risk, are always worth it for me as an artist and usually the customer-listener always appreciates it, as long as it is sounds good and well produced.

SJJ: I tried to write everything on synths before even touching a guitar. This way I forced myself out of my comfort zone.

BM: I didn't really think too much on how to inject a sense of originality. I feel like if the melody is something you've never heard before that will automatically make it different.

SJL: I think the mix of trailer elements and structure makes it original enough, but I also stayed strictly with custom sound design instead of relying on presets and such.

Were there any specific production tools in your arsenal that were particularly useful when creating your cue?

AZ: My trusty Schecter 8 strings guitar. And my kemper with a very good MESA profile and my bass. Then literally it's all about my experience to understand how the raw guitar sound has to be produced. EQs, compressions, double compressions, and a huge pile of synth layers. Producing a proper doom soundtrack is really tough. It is even harder when it comes to make it trailerised too!

SJJ: I like to use analogue stuff. So i tried staying with real drums, real amps, and analogue synths.

BM: My guitar was essential for this track which is something I don't reach for very much in other genres. So that was fun and refreshing!

SJL: Compression and saturation…. lots of it.
Stay tuned for 'Putrid Deathquake — Overwhelming Doom' coming soon!